FEATURED PROJECTS
City Gate Self Storage
1,000 unit State-of-the-Art Climate Controlled Facility
Naples, FL
To be managed by CubeSmart
---
UPTOWN CENTRE
6300 N. Andrews AVE
19,400 Square Foot Retail Center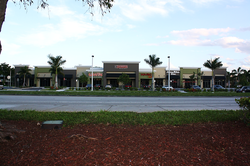 Located in the busiest area of Fort Lauderale, this 19,400 square foot retail center opened in November 2013. The unique "Food Court" environment features Chipotle, VooDoo BBQ, Giraffa's Steaks and Hamburgers, Saladworks, Blaze Pizza, and MD Now. There are over 69,000 employees within 1.5 miles of this project, and it is the Corporate home to Citrix, Microsoft Latin American, BOSCH, and CBS Sportsline. It is also strategically located at the intersection of 95 and Cypress Creek Rd on Andrews Avenue and less than 2.5 miles to the Imperial Point, Bay Colony, Palm Aire, and Coral Ridge Communities.
---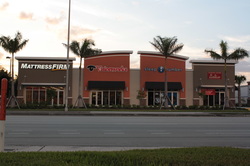 Federal Center
2121 N. Federal Hwy, Fort Lauderdale, FL
14,300 SF Retail/Restaurant Shopping Center in the heart of East Fort Lauderdale. This project was recently completed and is home to National Tenants; Mattress Firm, Sleep Number, and VisionWorks. Brooklyn Water Bagel is scheduled to open in the first quarter of 2017. This project is the design of Baranco Gonzalez Architects and was built by Grycon Construction.
---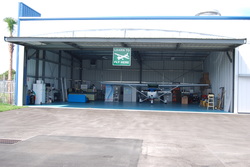 Diversified Aviation - North Perry Airport - Pembroke Pines, FL
33 Aviation Storage Hangars & Exclusive Pilots Lounge - Phase I
13,500 SF Build-To-Suit for Broward College's Aviation Institute - Phase II
Diversified Realty Development just completed the first phase of Aviation storage hangars at North Perry Airport. When complete the project will consist of 41 Hangars, Exclusive Pilot's Lounge, a home for the expansion of Broward College's Aviation Institute, and several new Businesses. For more information, visit
www.DiversifiedAviationNp.com
.
For some more Images of the First Phase, please
CLICK HERE!
---
Completed Projects

Our development experience began with multi-family rental product in 1970. We subsequently completed our
first shopping center in 1974, followed by additional multi-family, office, office/showroom, industrial and
retail projects from Broward County to Jacksonville in Florida, Georgia and Alabama.
In 1978, Alan founded the PSI group of Companies which were focused on the development, leasing and
management of retail projects primarily throughout the State of Florida, with offices in Fort Lauderdale,
Ocala and Jacksonville.
Overall, we have had lead responsibility for the development of more than 25 projects exceeding 3,000,000
square feet. These projects include:
Uptown Centre, Fort Lauderdale, FL 19,400 sq. ft. retail center
Phase I @ North Perry Airport, PPines, FL 33 Aviation Storage Hangars & Pilot's Lounge
2121 N Federal Hwy, Fort Lauderdale, FL 12,300 sq. ft. retail center
West Town Corners, Altamonte Springs, FL 400,000 sq. ft. retail center

Midway Plaza, Tamarac, FL 220,000 sq. ft. retail center

Coral Palm Plaza, Coral Springs, FL 135,000 sq. ft. retail center
The Promenade, Fort Lauderdale, FL 58,000 sq. ft. retail center
The Prado, Ft. Lauderdale, FL 25,000 sq. ft. retail center

Frank's Crafts, Margate, FL 40,000 sq. ft. retail center
Pembroke Commons, Pembroke Pines, FL 320,000 sq. ft. retail center
Southside Square, Jacksonville, FL 310,000 sq. ft. retail center
Westland Park Plaza, Jacksonville, FL 160,000 sq. ft. retail center
Gaitway Plaza, Ocala, FL 240,000 sq. ft. retail center
Ethan Allen, Fort Lauderdale, FL 15,000 sq. ft. retail center
Home Depot Plaza, St. Petersburg, FL 75,000 sq. ft. retail center
Oak Tree Plaza, Altamonte Springs, FL 120,000 sq. ft. retail center
Chelsea Square, Ocala, FL 35,000 sq. ft. retail center
Crystal Lakes Plaza, Pompano Beach, FL 75,000 sq. ft. retail center
Jet Center, Jacksonville International Airport, FL 100,000 sq. ft. office building, fixed base facility and hangars
Sheltair Aviation 100,000 sq. ft. of airplane storage hangars at various airports throughout FL
Land Management Services

Secured Approvals and successfully managed the Pre-Development for:
200 Acre parcel outside of Gainesville, FL for 55+ Active Adult Community
815 acre project outside of Gainesville, FL for a Fly-In Community with a Championship Golf Course

Equestrian Community in St. Lucie County, FL
A Commercial and Residential project in Fort Pierce, FL
300 unit Residential Community in St. Lucie County, FL
30 boat docks to be constructed on the Intracoastal